The iRPG initiative is extending KBSI's MODELMOSAIC® technology to support the creation, analysis, and distribution of tactical intelligence data.  iRPG will help users develop application services for assessing COA and develop workflows that address specific domain ontology questions, allowing for more effective use of intelligence data.
KBSI is researching, designing, and developing an intelligence Rapid Product Generator (iRPG) that is an extension of KBSI's MODELMOSAIC® knowledge management framework.  The iRPG technology will allow the ISR-C2 community to use MODELMOSAIC® in support of warfighters' creation, analysis, and distribution of tactical intelligence data.
iRPG's capability for rapidly generating intelligence products will allow users to develop warfighter-evolved systems:  users will be able to compose solutions to intelligence needs in real time using pre-existing data sources and services.  The iRPG will be a standards-based framework, making use of the service-oriented architecture (SOA) and supporting distributed data models and ontologies derived from specified requirements.  The technology will also include a set of design integration guidelines for application services, implementations of workflow and discovery services, and a method for annotating non-semantic web services for integration into the ISR-C2 framework.
KBSI's MODELMOSAIC® model development platform, an operational framework housing system and knowledge modeling tools, was originally developed for use in KBSI's system engineering, knowledge modeling, and ontology consulting efforts.  The tools implement proven concepts and present them to system developers or analysts in an efficient and well-structured form.  MODELMOSAIC® is currently being applied to the automatic generation of inter-system message translators and the definition of services in support of KBSI's ODIF semantic web infrastructure (SWI).  The ODIF technology's system-oriented architecture-based (SOA) SWI provides the knowledge management, interoperability, and integration framework for tying together a number of planning systems for the Missile Defense Agency (MDA).  The intercommunication supported enables collaborative and iterative planning at all MDA echelons.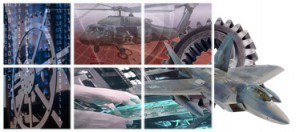 The iRPG technology will support both application service developers, experienced programmers who develop new services and integrate existing services into the iRPG framework, and warfighter application analysts who understand the domain ontology and create workflows to answer specific domain ontology questions.  For example, an application service developer might create a new service that is able to assess a course of action (COA) (obtained from a source-data repository) against cultural factors for a given region, indicating domain ontology questions that the service can answer, and listing additional semantic descriptive information about the service.  This new service is now available for use by other application developers.
The warfighter application analyst works with a decision maker to develop an application service workflow that answers particular domain ontology questions.  It achieves this capability by selecting and assembling a collection of existing application services (some of which may themselves be workflows) into a workflow service.  This makes it possible to assemble novel workflows on the fly—workflows that address previously unanswered COA questions.  Once an application service has been created and registered with the iRPG discovery service, an analyst or decision maker that is knowledgeable in the domain can use the iRPG interface to connect existing services into a workflow using drag-and-drop.  No programming knowledge is required.
Lessons learned are also captured through the iRPG.  The tool will include a repository for storing all workflows that have been used in the past, mitigating gaps in communication and knowledge sharing and allowing decision makers to utilize past experience and knowledge products in formulating a COA plan.